My Bullet Journal: To-Do, Calendar, and Goal Organization
an inside look at my simple bullet journal
Anyone who has met me for, like, one second knows that I love organization. Thus, planners and calendars are my jam. But, as my husband puts it, I live my life according to a "very complex but very thorough system." I iterate and iterate until I find the best, most efficient processes by which to live my life.
That means that no planner —no matter how robust —is perfect for me. This realization led me to bullet journaling.
What is a bullet journal?
Originally, the bullet journal method of rapid note-taking was developed by a guy named Ryder Carroll. Having grown up with a learning disability, he worked hard to find a way to take notes that worked for him.
There are four main components to a traditional bullet journal: the index (table of contents), the future log, the monthly log, and the daily log. First, you number all the pages of your notebook. (I and many others are partial to dotted notebooks, but you can use any type you want!) That allows you to keep a running index on the first page as you fill the notebook up. Then you have your future log, which is a few pages dedicated to things coming up outside of the next month. Next comes the monthly log: a one-page running list of dates down the left-hand side with space to note important upcoming events and tasks to the right. And finally, you have your daily log, which is most of what fills up your notebook. You use as much space as you need until you get to the next month. Then you make a new monthly spread and add all the page numbers to your index.
The magic of the bullet journal system is that you carry forward what matters and leave behind what doesn't. There are symbols you use to move a task to the next day or event to the next month, to mark a task complete, to mark something as important, etc.
You can learn more about the bullet journal method here. The beauty of it is that you can totally customize your bullet journal to your own needs. You can find lots of ideas on Pinterest. Some people get really extra with it. I've customized my own approach, but I'm nothing like some of the people on Instagram.
My bullet journal
My first bullet journal had a lot more to it than my current one does. I had trackers in the beginning to log books I'd read, new words I'd learned, debt I'd paid off, miles I'd run, and more. But eventually I fell off the tracking wagon, and then they just became another source of guilt for me. This year, I pared back to only the spreads I use. I have a future log (shown in the header image of this post), a monthly log, a weekly log, and a space for me to take notes.
Below you'll see my August 2018 monthly spread. (Yes, I drew it, and yes, I use a straight-edge.) There's a calendar so I can add events and important dates, of course, but I also leave myself space for goal-setting underneath. I've used the space to the right in a lot of different ways (for a while it was a habit tracker), but lately I've been trying out a method of time prioritization I read about in The Myth of the Nice Girl. Each quadrant is labeled with one of my top four values that month, and I'm allowed to write two areas of focus inside each one. If an ask on my time doesn't align with something on that grid, I say no.
And instead of a daily log, I use a weekly log. Since I mostly use my bullet journal at work, it was helpful for me to have a space to write down to-do items that I knew were coming up, but not for a few days. My layout also allows me to use the side margins to set the week's focus and remind myself about long-term projects that need to stay top-of-mind.
After my four or five weekly spreads, I use the next few pages to take notes during meetings. At the end of the month, I draw myself a new monthly spread and weekly spreads and take a few minutes to set my intentions.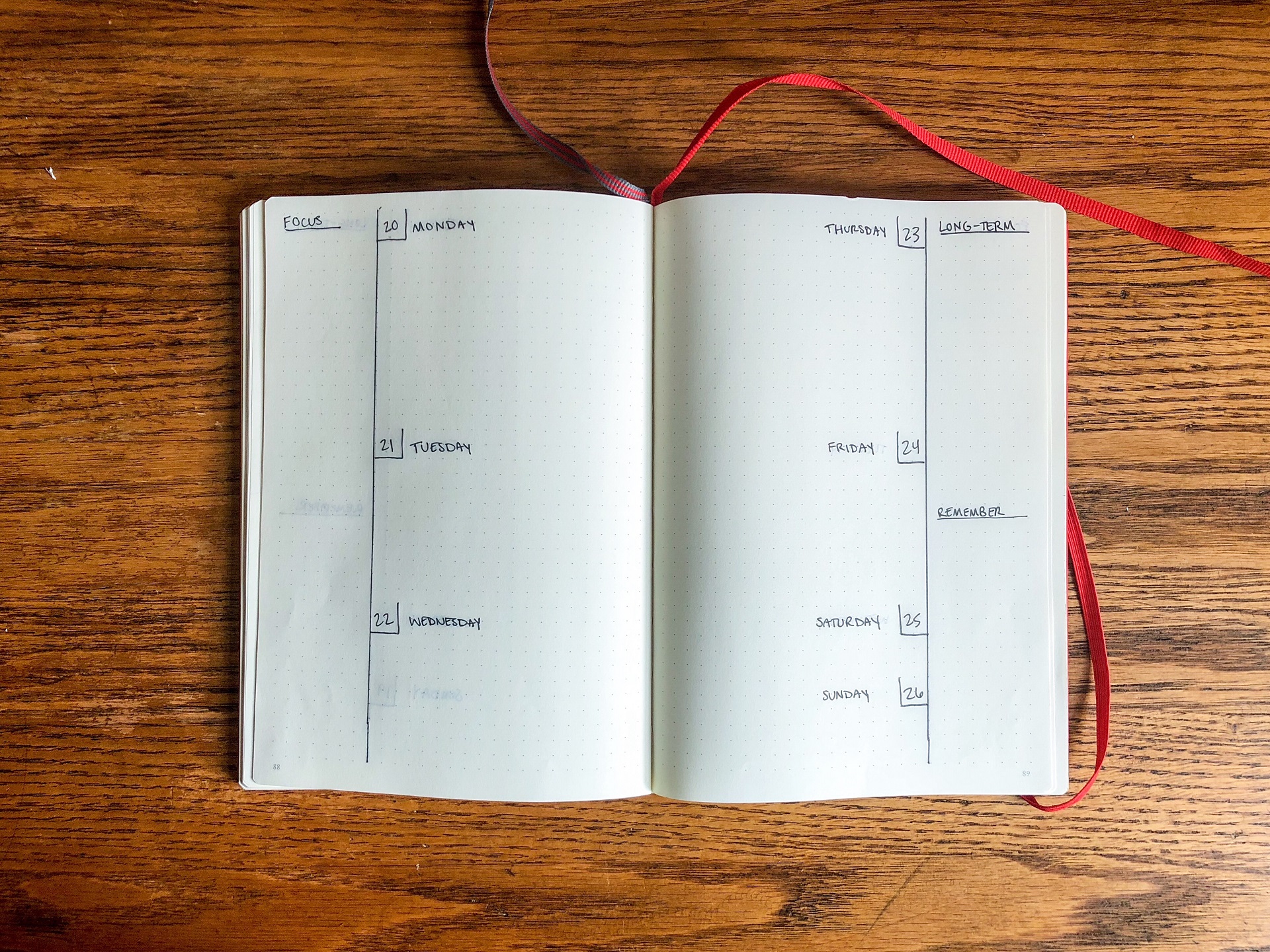 Do you use a bullet journal? I'd love to hear what works for you! Let me know in the comments. And if you liked this post, do me a favor? Hit the share buttons below. Thanks!